The Pointing Dog Journal March/April 2019

Features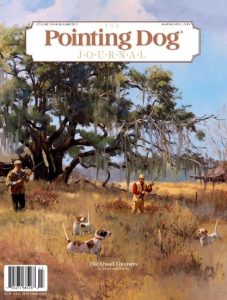 Red Setter Saviors
by Tom Davis
Knucklehead Basin
by Christian Douglass Bates
The Place
by Chris Smith
Photo Essay
Mearns' Challenge
by E. Donnall Thomas Jr.
Rimrock Ghosts
by Dave Smith
Pockets of Grouse
by Frank Jezioro
Departments
Eastern Encounters
Out of touch?
by Tom Huggler
Gun Dog Forum
Looking back.
by Larry Brown
The Gun Room
Guns and loads for pheasants and quail.
by Steve Smith
Problem-Solving Bird Dogs
Continuing education.
by Craig Doherty
Trainin' Dogs with Rick Smith
The next dog.
by Rick Smith & Sharon Potter
Versatile Hunting Dog
Because your asked.
by Chuck Johnson
Western Wings
A primer for partridge.
by Ben O. Williams
Et. Al.
Subscriber Photos
Subscriber Forum