November/December 2020

Features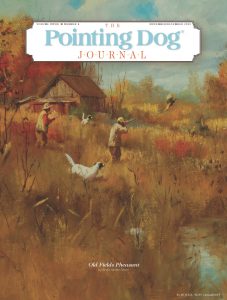 Wagon to the Stars
By Tom Davis
The ABCs of an Out-of-State Trip
By Steve Smith
Midseason Corrections
By Tom Keer
Western Pheasants
By E. Donnall Thomas Jr.
Woodcock on the "Run"
By Frank Jezioro
Down Along the River
By Jim McCann
Departments
Favorite Covers
By Brett J. Smith
Western Wings
Prairie grouse in the Nebraska Sandhills.
By Matt Bluett
Eastern Encounters
Time to respond.
By Tom Huggler
Gun Dog Forum
Pheasant dogs : breaking the rules?
By Larry Brown
The Vet's Office
Blasted shotguns!
By Dr. Ben J. Character
The Gun Room
The moving spot.
By Steve smith
Trainin' Dogs with Rick Smith
Christmas and puppies.
By Rick Smith & Sharon Potter
Problem-Solving Bird Dogs
Making the hard decisions.
By Craig Doherty
et al.
Subscriber Photos
Subscriber Forum
Your Dog & You
Top 10 for pups.
By George Hickox
The Way It Ought to Be
By Spaulding Hoffhacker