2020 UPLAND GAMEBIRD HUNTING FORECAST
by Dave Smith
This update to our 2020 Upland Gamebird Hunting Forecast incorporates the results of late summer upland bird population surveys. This data measures recruitment of birds into the fall population, providing a more finely tuned forecast than was possible at press time for the print magazine in mid-July.
Given the forgetful nature of 2020 on so many fronts, our annual Upland Gamebird Hunting Forecast prediction in mid-summer that it would be an exciting upland gamebird hunting season somehow felt overly optimistic.
The state upland gamebird coordinators presented a compelling array of spring population survey data, model predictions, and their time-tested instincts about weather and habitat conditions. With winter and spring-early summer weather conditions seemingly written to script, the rationale was solid that pheasants would flourish, bobwhite numbers would be good in some regions, and we'd have a desert quail explosion in Arizona. The intrigue was intoxicating, but one harsh reality was still out there: Upland gamebirds are generally short-lived species with high recruitment potential, so what happens during the nesting and brood-rearing period greatly influences gamebird populations in the fall.
The summer roadside and brood surveys are now complete, and the new data largely puts that final anxiety to rest. Foremost, pheasant populations boomed across most of the range! This could be best rooster hunting in a decade, so it's time to load up the bird dogs and go hunting!
QUICKLINKS
PHEASANTS
In Iowa, the roadside survey revealed a statewide pheasant index of 20.2 birds per route, an 18-percent increase from 2019, according to Todd Bogenschutz, Iowa DNR. The 2020 tally is a whopping 32 percent above the 10-year average. The Northwest and Southeast regions recorded the highest counts at 28 birds per route, but it looks to be a great year across the state. The pheasant index exceeded 20 birds per route in six of the nine regions of Iowa for the first time since 2007. Further, drought conditions in western Iowa resulted in poor dew conditions in some regions, which can result in fewer pheasants being observed on the roadside survey than actually exist in the population. As such, Iowa DNR expects bird numbers to be higher than reported in those regions. Hunters may want to give the Southeast region special consideration this fall, as the survey revealed a 115-percent increase from last year, indicative of a great hatch and lots of young birds in the population. To put all of this in a harvest perspective: Last season's pheasant harvest was the second highest in a decade, 28 percent above the 10-year average. So, a boom on top of an excellent hunting campaign equals a very compelling reason to hunt the Hawkeye State this season!
"Pheasant hunting this fall could be some of the best the state has seen in a decade," said Bogenschutz. "Hunters should harvest approximately 250,000 to 350,000 roosters this fall."
It's a similar story in Minnesota. The statewide pheasant index of 53.5 birds per 100-mile route represents a 42-percent increase from 2019 and is 37 percent above the 10-year average. The absence of spring snowstorms and generally drier conditions throughout the breeding season enabled pheasants to produce young at high levels, according to Timothy Lyons, Minnesota DNR. The pheasant boom was most pronounced in the Southwest region, Minnesota's fabled farmland pheasant country where observers recorded 90 pheasants per route, a spectacular 146-percent increase from last year's tally and 50 percent above the 10-year average. This will clearly be a pheasant destination this fall. Likewise, major increases were also recorded in the Central (+39 percent), West-Central (+30 percent), and South-Central (+21 percent) regions. The West-Central region, which had the second-highest tally at 64 pheasants per route, will be a good bet again this hunting season.
Minnesota invests heavily in habitat conservation for pheasants, and the results are showing. Habitat on private lands increased by almost 16,000 acres from last year thanks to a Conservation Reserve Program sign-up, Reinvest In Minnesota, and the Wetland Reserve Program. Minnesota's Walk-In Access program makes about 30,000 acres available for public hunting on private land across 47 counties in the farmland regions.
Pheasant populations are also rising in the core pheasant regions of Nebraska. According to Nebraska Game, Fish, and Parks, the July Rural Mail Carrier Survey revealed a 47-percent spike in the Southwest region, the Number 1 region for overall pheasant abundance in Nebraska. Likewise, the Panhandle, the Number 2 region for pheasant abundance, showed a 36-percent increase. Overall, pheasants were up five percent statewide from 2019. Populations in the Southwest are 18 percent above the five-year average at a time in which pheasant numbers are 16 percent below the statewide average statewide.
In Kansas, conditions were dry from February through May, but then the state received good summer rainfall, key to producing excellent brood habitat. The summer roadside surveys revealed that pheasant populations were stable in the Northern High Plains region of northwest Kansas, long a pheasant-hunting stronghold, according to Jeff Prendergast, Kansas Department of Wildlife, Parks, and Tourism. However, the dry spring resulted in declining pheasant populations in the other five regions. Nevertheless, Kansas continues to support one of the best pheasant populations in the country and the fall harvest will again be among the top five states.
Finally, after two years of horrendous drought followed by an unusually wet summer in 2019, North Dakota and Montana expect a long-awaited pheasant rebound to start taking shape this fall. In North Dakota, pheasants observed per 100 miles on the summer brood survey was up 38 percent from last year, but still 14 percent below the 10-year average, reported R.J. Gross, North Dakota Game Fish and Parks. The rebound was most pronounced in the Northwest region where counts more than doubled from last year, going from 39 to 91 pheasants per 100 miles. Likewise, the Southwest region counts spiked from 41 last year to 70 pheasants per 100 miles. Counts in regions of western North Dakota tallied an average brood size of six chicks, indicative of an increasing population. Montana Fish, Wildlife & Parks doesn't conduct systematic brood surveys but expects pheasant populations to be better this fall in northeastern Montana.
Notable in its absence herein is South Dakota, the granddaddy of all pheasant hunting states. Short answer: South Dakota Game, Fish, and Parks decided this year to eliminate its long-standing and extensive summer pheasant brood survey. More pheasants are harvested in South Dakota, by an order of two to three times, than any other state in the country. However, a steep decline in resident hunter numbers and concerns over similar future trends for nonresident hunters led state officials to conclude that hunters were making decisions to hunt or not hunt pheasants based on the results of the summer survey. The agency has explained that the survey was conducted only to provide information about pheasant hunting prospects, not for the purpose of adapting the harvest regulations. As such, hunters will now learn whether pheasant numbers are high, moderate, or low – keep in mind, by South Dakota standards – by simply going hunting. Which, according to a recent release from the South Dakota GF&P, hunters will get to do more of, as the season was extended to January 31, 2021; and they can begin hunting at 10 a.m. for the entire season. The Forecast that appeared in the September/October issue provided the most up-to-date information about South Dakota pheasant-hunting prospects. Brood survey, or not, it's a good bet that SoDak will be the Number 1 pheasant harvest state again this year.
SHARPTAILS, HUNS, AND PRAIRIE CHICKENS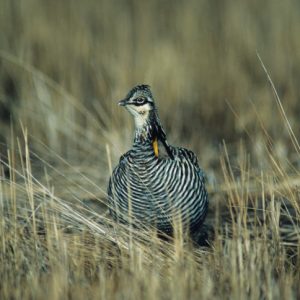 Sharp-tailed grouse populations are on the upswing in the northern Great Plains. In North Dakota, the summer brood surveys revealed an impressive 54 percent increase for sharptails statewide, with an average brood size of five chicks. While populations are still recovering to levels seen prior to the 2017 drought, this year's summer brood survey results are very telling of excellent production this breeding season. As explained this summer by Jesse Kolar, North Dakota Game & Fish Department, the 2020 spring lek survey revealed a 10% increase in sharptails on their breeding grounds, compared to the 2019 lek survey. So, spring numbers up 10 percent, summer numbers up 54 percent and large brood sizes were recorded. That adds up to a great hatch and lots of young birds in the population!
South Dakota Game, Fish & Parks doesn't traditionally conduct summer grouse brood surveys, but they did provide a prairie grouse forecast that indicates it could be a good year. Grassland habitat conditions were excellent throughout the spring and summer and temperatures were moderate from April through June, which bodes well for nesting. Drought conditions crept into western South Dakota in late summer, but overall, it could be a good year to hunt prairie grouse in South Dakota. It's a similar story in Montana, with sharptail numbers back up to pre-drought levels across much of the Hi-Line of northern Montana coming into the breeding season, then excellent conditions for nesting and brood-rearing across all of eastern Montana in 2020. If my annual Labor Day trip to eastern Montana was any indication, sharptail populations are well on the way to recovery.
Huns also benefitted from the ideal spring/summer weather patterns and were up 45% in North Dakota, though North Dakota GFD explains that populations are low, and most Huns are taken incidentally when hunting pheasants or sharptails. Huns are still spotty in northeastern Montana – largely due to the loss of 71% of the state's CRP since 2007 – but Montana FWP reports biologists seeing some large broods this year. In Idaho, Hun populations took a hit this spring with a cold and wet June in the Southwest region, but conditions were excellent for brood rearing, according to Jeff Knetter, Idaho Department of Fish and Game. Partridge populations did well in Owyhee County with large broods observed throughout the county.
BOBWHITE QUAIL
Kansas looks to be the go-to state for bobwhites with above-average bobwhite populations. This year's surveys revealed stable quail populations in all regions of the state except the Southeast, according to Prendergast. That is great news for quail hunters because the Smoky Hills, Southern High Plains, and South Central Prairies have produced very good bobwhite hunting in recent years! Prendergast explains that peak nesting is later for quail than pheasants therefore quail took better advantage of the summer rains. And, reading between the lines a bit, here's a tip: The Southern High Plains had lower numbers of quail on the whistle survey this spring, but essentially the same population as last year on the summer survey, which means good recruitment and lots of young birds! Prendergast expects this season's quail harvest to be among the Nation's highest as Kansas remains one of the premier quail hunting destinations.
Iowa also looks like a good bet for bobwhites. Iowa's statewide bobwhite quail index was 0.74 birds per route, essentially unchanged from last year and slightly below the 10-year average of 0.9 birds per route. The quail harvest last season was about 20,000 bobwhites and Bogenschutz expects a similar harvest this year.
In Texas, the quail population roller coaster ride continued this year with drought conditions hampering production in the Rolling Plains and portions of the south Texas. According to Robert Perez, Texas Wildlife & Parks Department, quail populations have declined dramatically from the dizzying numbers observed only four years ago, a function of tough weather conditions. Nevertheless, Perez reports that the South Texas Plains received some excellent moisture this summer and while the region-wide counts showed a drop-off from last year, there will be some very good hunting in some areas: "Reports from Kleberg, Kenedy, and Brooks counties in the Coastal Sand Plain are encouraging in terms of range conditions and good chick production. Additionally, reports from Hebbronville and Brooks counties suggest summer and hurricane rainfall buoyed quail populations where some ranch managers now have expectations of good to above-average hunting conditions."
Likewise, drought conditions adversely impacted quail production in Oklahoma, particularly in the western portion of the state. The August roadside quail survey shows the statewide quail index dropping from 2.88 to 1.68 quail per route, which is 68 percent below the 31-year average and 45 percent below the 10-year average, reports Tell Judkins, Oklahoma Department of Wildlife Conservation. However, Judkins says it was an early hatch and that some quail may have already been dispersed by the time of the August survey, so he expects a more accurate reading with the results of the Department's October survey. Stay tuned.
In Nebraska, bobwhite recruitment was a mixed bag. The overall statewide index dropped 16 percent from 2019, based on the July Rural Mail Carrier Survey, according to the Nebraska Game & Parks Commission. The Republican River country of south-central Nebraska, the state's best area for bobwhites, saw a 9 percent uptick from 2019 but bobwhite numbers are still 23 percent below the 5-year average. On the flipside, the counts from the East Central region, which has the second-highest quail abundance, were down 39 percent from last year but are now only 5 percent below the 5-year average. Quail hunters will have some good opportunities in these regions this season.
CHUKARS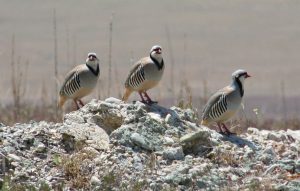 The summer survey data is a valuable piece of information for chukar hunters because it provides insights into the current year's recruitment for this boom-and-bust species. This year, that data is particularly useful given the wide range of results.
In Nevada, the summer survey revealed a statewide average of 1.7 chicks per adult, which is considered low, according to the Nevada Department of Wildlife. However, there were some enlightening findings. The 2019 chukar boom in Churchill County was evident in that the Sands Springs mountain range led the state with 325 birds surveyed, but that was mainly a product of last year's epic hatch as the 2020 survey revealed only 1.2 young per adult. However, the Black Rock mountain range of Humboldt County had the second highest count, driven by an impressive 7.2 young per adult ratio. The Pine Forest Range was intermediate at 3.4 young per adult. The North Tuscarora Range in Elko County and Cortez range in Eureka County should also be productive, according to Nevada DOW.
In Oregon, Harney County should produce some excellent chukar hunting this season. Trend surveys found 76.8 birds per 10 miles, a 110 percent increase compared to last year and a 30 percent increase from the 10-year average, according to Mikal Cline, Oregon Department of Fish and Wildlife. Production was good for the second year in a row, with 3.1 chicks per adult. Cline says the northern portion of the county received the best moisture and had the highest counts. However, in Malheur County, chukar numbers were down 46 percent from last year and 37 percent below the 10-year average. The most productive routes were along Owyhee Reservoir and Cottonwood Canyon southwest of Harper.