Desert Quail Forecast 2015

The Traveling Wingshooter 2015: Desert Quail Forecast
by Dave Smith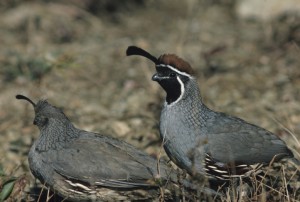 It's been raining quail in Arizona, according to Jonathan O'Dell, Arizona Game & Fish Department (AZGFD) Small Game Biologist: "We've had a pretty good winter in terms of precipitation in the desert, which translates directly to Gambel's quail. Winter precipitation and Gambel's quail populations are so inextricably linked, we often say it's raining quail in more literal terms than figurative. We are on the backside of the peak hatch period right now, and all the indicators are looking positive."
Spring call counts by AZGFD revealed a whopping 176 percent increase from last year. Coming off a tough year in 2014, a function of the previous year's drought, it may not be the quail year-of-all-years yet, but it could be close. O'Dell says this season should offer more birds in the bag and better wingshooting than hunters have seen in recent years.
The New Mexico forecast falls right in line with Arizona's. Casey Cardinal, New Mexico Game & Fish Department (NMGFD) Resident Gamebird Specialist, reports that the spring weather was great with rainfall in the right amounts when they needed it for quail reproduction. NMGFD doesn't conduct a standardized quail survey, but Cardinal expects a major increase in quail production this year, which could equate to spectacular hunting for scaled and Gambel's quail, and possibly Mearns' if the summer monsoon pattern materializes. NMGFD's 2014 quail harvest estimates revealed a threefold increase for scaled quail last year. Southeastern New Mexico looks best this year for scaled quail, while Gambel's will be best from Socorro County to the Arizona line.
The sleeper for quail hunters this year may be another border state, albeit one that borders Canada instead of Mexico! California quail hunting was spectacular in portions of eastern Washington last year, according to Ryan Stutzman, Washington Department of Fish and Wildlife South-Central Private Lands Biologist. Stutzman reports that quail numbers have been on the rise the last few years, and hunters had some great days last fall busting huge coveys. The mild winter and good spring weather have the table set for more of the same this year.
Idaho and Oregon should offer improved California quail hunting this year. California is gripped in the throes of a multi-year drought and won't be a good choice this fall, according to Scott Gardner, California Department of Fish and Wildlife.