Choosing the Right Pheasant Lodge

by Steve Smith
You may have noticed over the years that we don't run a lot of articles in this magazine about lodges, pay-to-play spots that other magazines focus on. We do now and then, maybe one a year out of more than 30 features and at least that many columns. That's because our readers want to hunt wild birds over their own dogs, and in some – though certainly not all – commercial operations, at least one of those and maybe both are not possible.
So why would, or maybe should, you consider going to one at all, particularly one of the upscale pheasant lodges? Well, in case you haven't noticed, the huge bird populations we saw during the heyday of CRP acreage starting with the 1985 Farm Bill are, if not a thing of the past, certainly not what they once were only a few short years ago.
But at these commercial places, it's always the glory days. Please don't tell me you haven't thought about trying it at least once, to taste what it's like. And just an FYI: At a number of these commercial operations I was at in the course of filming a wingshooting show, I ran into a number of our subscribers. But only at ones where they could use their own dogs, a situation that seems to be improving.
Okay, let's talk about pheasant lodges, those high-end places on the prairie that are set up entirely for the enjoyment of pheasant shooting. You know the sort I'm talking about: Everything is first class, the food great, the birds in flocks, the guides friendly and knowledgeable, and the dogs know the game. All you have to do is show up.
All of that is on the plus side. On the minus side is, of course, the cost, and a few days, four nights and three hunting days being the standard, at any of them isn't cheap, starting usually around $3000 to nearly $5000.
Now, here I'm not talking about wild-bird lodges, which have to observe the state seasons and limits and are subject to the vagaries of bird population swings, but rather the released-bird lodges where populations of pheasants are cultivated like a crop. But by that, I mean they aren't like the local shooting preserve back home that releases the number of birds you designate and hour before you show up.
No, these places turn birds (of both sexes) loose at 16 weeks of age and then maybe supplement the population with adult pheasants as the season progresses and the roosters are shot. The birds survive because of the great habitat – cover and food plots – planted and maintained for them, and I am unaware of any such outfit where the birds don't naturally reproduce on their own during breeding season.
Of course, it's important to get the right lodge, and to do that, you have to know what questions to ask so you don't end up with an expensive disappointment. These are in no particular order except for the first one because for many of us, if this is a no, we can stop right there or look someplace else.
What about dogs?  Can you bring your own? If not, what will you be hunting behind – flushing retrievers are the norm, but some (very few) lodges use pointing or versatile breeds, some a combination of pointing dogs worked with flushers. If you can bring your dog, where do he stay? I have taken my dogs to places that allow them in your room in a crate; others have kennel facilities; and a couple times, my dogs stayed in my truck. No matter where, if you take a dog, make sure he has all his shots, especially bordatella. I mentioned above that allowing hunters to bring their own dogs seems to be more acceptable than it used to be. I think that's because the hunting demographic is aging, and many wingshooters have put the gun away permanently. But those with dogs are a die-hard group, as you know, and stay in the game longer and with more intensity.
Price and cancellation or date-change policies. Once when I had just returned from filming a TV show at a great lodge in North Dakota, I was talking to a friend about it, one who'd never been to such a place, He asked my how much it cost, and I told him. He thought for a minute and said, "I can go to that place for three days, or I can stay married…but I can't do both." So, obviously, the place has to be affordable – remember, I'm talking a one-time deal, here, not an annual event.
But almost as important is the lodge's cancellation or date-change policy. When you sign up, you'll have to part with a 50 percent deposit. If you can't make it, some lodges will allow you to change your dates with no penalty. Others will allow you to send someone in your place (which seems very reasonable), and others…forget it –you show up on your prearranged dates, or you lose the whole deposit. Best advice: Make sure your dates are firm.
Hunt logistics. Some lodges do large group block-and-drive hunts whereby three separate parties of four hunters are combined into one large group of 12 to work big fields. There are then lots of shooters, and everyone is in the field with eight total strangers. This also almost always means group bagging. Other places keep the parties with the ones they came with, which most people prefer. Make sure you know which way you'll be hunting before you part with a deposit.
Proximity of hunting land to the lodge. I have been to lodges where you walk out the backdoor and you're in pheasant cover. I have been to ones where the nearest field was nearly 30 minutes away from the lodge. Closer is better. Ask first.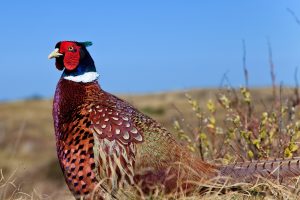 Number of birds allowed/day and charge for per-bird overages. Lodges have a generous daily bag limit, usually about five birds per shooter per day. You can shoot as many as you like, of course, but anything over five is likely to be costly –  $35-$45 per bird is about standard. What if you shoot four birds one day and six the next? That's 10 in two days, and even I can do the short division on that, so often the lodge won't charge for the extra bird on day two – but ask ahead of time.
Type of cover you'll be hunting. Knee-high milo gets boring after a day or two, but most places have a variety: milo, grass fields, shelterbelts, cattail sloughs, and so forth. Part of the reason is because of the wide range of ages and physical conditions of the clients. This is supposed to be fun, and having a heart attack pushing impenetrable tangles, ain't.
Sleeping facilities. Usually, the more expensive the lodge, the more lavish and private the billeting, ranging from a bunkhouse at the low end, to single-occupancy with a private bathroom at the other. Double-occupancy is pretty standard, though.
What about guides? Is a guide always necessary? At a couple places, I have been allowed to go off on my own with my dog. But in most places, someone has to be along with you if for no other reason than to just to ensure you stick to the limit. And, of course, the guide has to be tipped.
Other activities. Are there other things to do? Let's say that you get your lodge-allowed limit in the morning. In the afternoon, you can go along with a friend and work your dog. Aside from that, are there clay targets for warm-ups, for example? Maybe there are other, wild, birds available – sharptails or Huns or prairie chickens either on the property or nearby.
This article first appeared in the July/August 2018 issue of The Pointing Dog Journal. You can order that issue in our online store. This article has been posted with the author's permission.